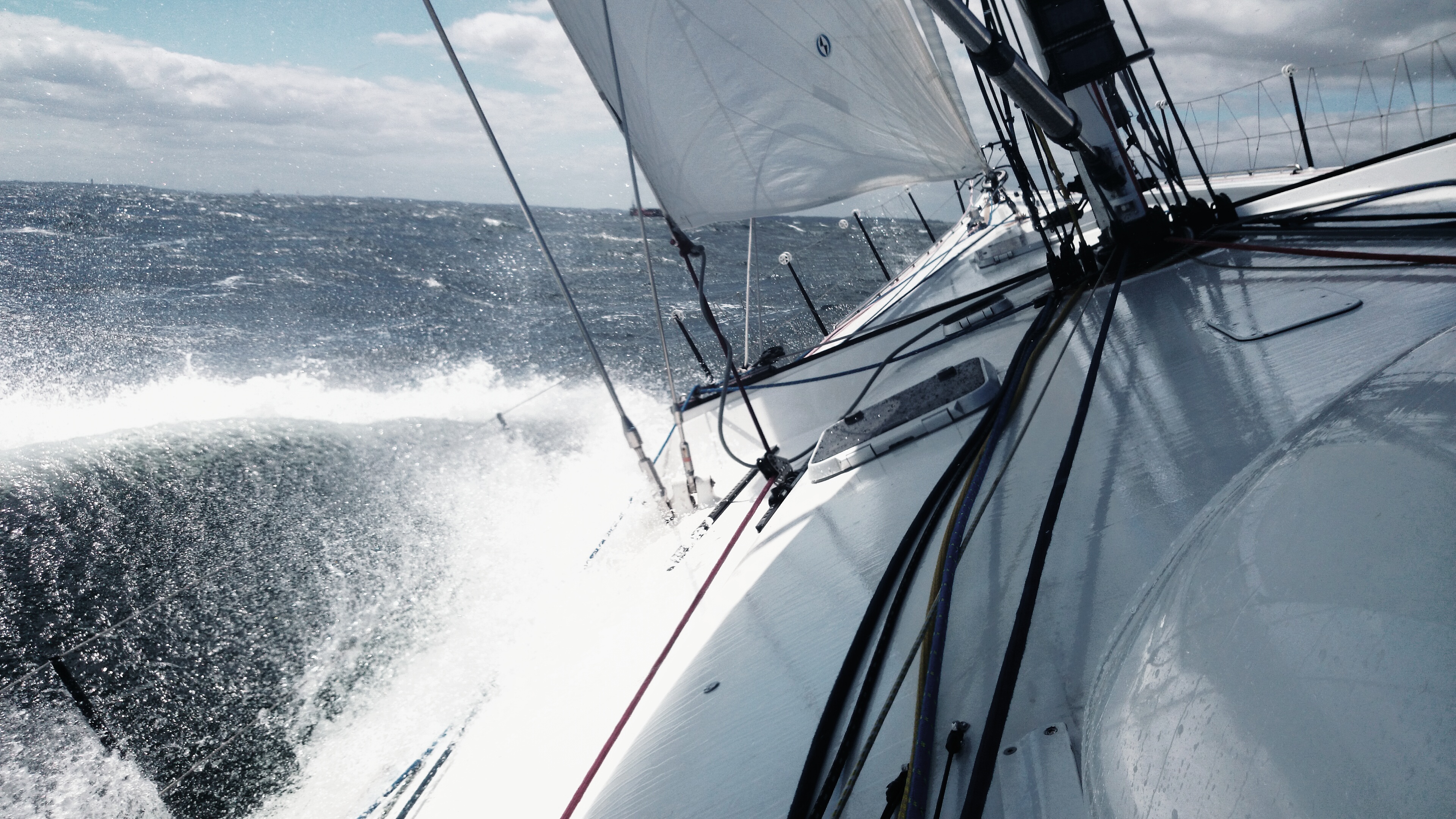 Review to 'Kieler Woche 2014'
London callin' – that could be the Motto of Kieler Woche EVERY year, considering the weather conditions of the world's biggest sailing event. Like every year, sun, wind and rain were constantly in the mix, which fortunately didn't hamper the start of the Welcome Race – what a great way to kick off the Kieler Woche! We had absolute best Nordic sailing conditions with wind speeds of 5-7 Beaufort. This year, in addition to the traditional ORC-Rating, the races from Saturday to Wednesday were included in the IDM-Rating, which led to the classes being highly diversified.
Regardless of all circumstances our goal was, as always: be the 'First Ship Home.' To have any kind of expectations at all for the calculated rankings, considering the completely negligible General-Purpose-Handicap allotted the ship we were on, would have been utopian. After a great start and an early command of the lead, things changed unexpectedly when our navigator hatte doch unser Navigator einen kleinen Umweg von ca. 5 Seemeilen eingeplant, um die Motivation an Bord noch einmal um etliche Wenden zu pushen. Da kam Freude auf, als das Feld – gerade noch in Sichtweite hinter uns – nicht die selbige Kursänderung wie wir vornahm. At the following buoy, we suddenly found ourselves in a fleet race, and moments later in a match race with ships from the group that started after ours. Arriving at the Eckernförde Bay, a technical mess-up finished us off when the clew of the first reef of our mainsail broke. We failed to meet our goal of the day. Result of these mishaps: 'Second Ship Home' and very disappointed faces.
Contrary to the forecasts, wind speeds picked up on the second day, with peaks up to 40 knots. The start of the race was on an upwind course, and things got serious right away at 18 knots speed and lots of tact on the sheet and rudder. The trimaran from Omansail wowed every participant in the Welcome Races when its team reached a top speed of 39 knots leaving Eckernförde. Even though there were some broken masts and tons of broaches to "admire" we managed to avoid any bigger mistakes and sailed happily past the Kiel Lighthouse, one end of the finish line, in second reef.
Navigare necesse est!