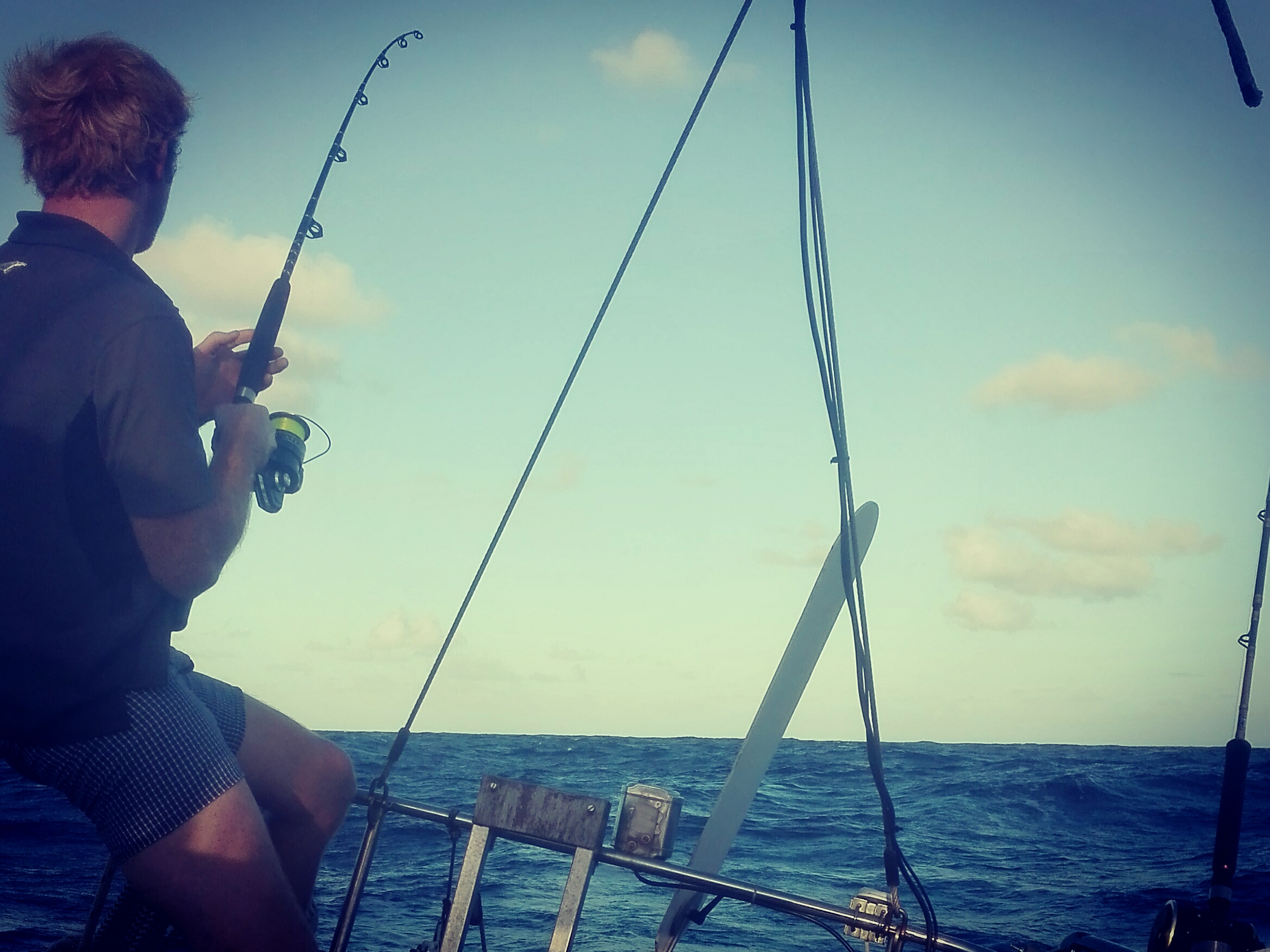 Day 19:
Once: 133sm. Course: 260 °. 5 Bft. Wave 2m. cloudy.
At night I use my friends – the squalls – to free the laundry from salt. By the way: The perfect clothing for weathering: oil jacket, nothing else. 🙂 The wind turns wildly back and forth, we no longer have a direct course. Shift over shift. Two birds are chasing us all day, they smell our food, there is mashed potatoes with beans and sausages, canned fruits for dessert. Many crabs are happy about their new homes. The crew uses the day and chills with many non-fiction books in front of their noses and lets it go well when the sea becomes calm. After so many days and weeks, our first two 20l canisters are empty, how economical we are … Many greetings go to Daniel Brandenburger today.
Day 20:
Times: 119sm. Course: 260 °. 3-4 Bft. Wave 1.5m. Sun.
The wind continues to drop and the sea becomes noticeably shallower, we make more relaxed progress. It was quiet at night, there is still an indescribable 20 ° air temperature – great! Water depth 'only' 3000m, at the beginning of the week it was 5000m. Tristesse spreads so shortly before our goal: We finally want to see whales and turtles or at least once a submarine. 🙂 There is a vegetable pan with potatoes in hollandaise sauce and a side dish of meat. We set the time back by another hour, because somehow it is still too bright for us to watch the film, even though our guards start at 8:00 p.m. Film: 'Because they don't know what they're doing' with James Dean. Greetings to the guys from Kepgo.
Day 21:
Once: 136sm. Course 256 °. 3-4 Bft. Wave 1.5m. Sun.
The ship has been lying much better in the water for a few days, the consumption of ballast pays off in performance. 🙂 Our fourth man, the self-steering system is already twitching around again, the steering line breaks in the morning after sunrise, the Frenchman from the supply shop has turned on Georg Mist. But we fix it quickly. In the morning a sailor emerges from nowhere and crosses our path 'only' about half a mile from us our course. Unfortunately he cannot be reached, how terribly busy all these people are in the middle of the Atlantic … omg. We take advantage of the wonderful weather and mix a small bottle of rum punch – for breakfast – and play Eli all day. There is spaghetti bolognese. At 5:15 p.m. the time has come, the sun goes down, the clock is already reset by us – because we feel like it. In the evening, contemplation with three candles. Best regards back to Bernd in the north. 😉