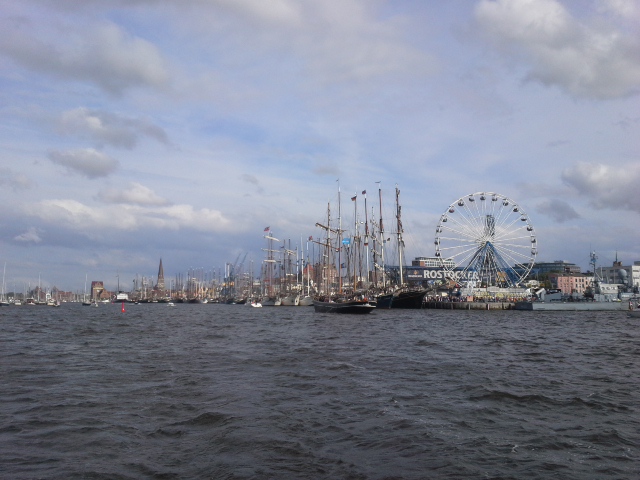 'HanseSail' – off to Rostock
As in past years, tall ships from all over gathered in Rostock on the second weekend in August for the HanseSail Event. The Kruzenstern and the Sedov were there from Russia, Stand Amsterdam from Holland, the Gorch Fock and of course a number of the tall ships that usually sail the Baltic Sea. For us, all the more reason to take a short break from our Mediterranean excursions and come back to Rostock for the first time in two years. This time is wasn't on Pippilotta, the tall ship I learned to sail on years ago, but rather on a normal sailing yacht, which first had to be picked up in Kröslin. So we arrived in Rostock on Wednesday, took the car to Kröslin and transferred the boat to Rostock. Thanks to a night sail from Stralsund to Rostock we moored in Rostock's city harbor early Thursday morning, on time to greet our first guests two hours later for a tour up the Warnow to Warnemünde. Then we headed out onto the Baltic Sea to watch a few ships, have lunch in Hohe Düne and sail back as part of the group with the tall ships towards Rostock. The big advantage of being on a fast sailing yacht is that you can see lots of tall ships since most of them are never faster than 4-5 knots under full sails; our Dufour barely needs a light breeze to fill its laminate sails, and it doesn't take much wind to get to log up to 8 knots, which means we could practically sailing circles around the other ships. I did go "back to the roots" for an evening sail on the Pippilotta, which was a welcome change to the years of yacht sailing. Setting and trimming a 600m² sail without the help of winches is a completely different world than rolling out the sails on a charter yacht. It's a bit more work, but still definitely loads of fun!!
Four days of Hansesail culminated in the Crew Party on Sunday night for the crews of all participating ships – this time onboard the Polish vessel Käptn Borchardt, which took off after the Hansesail towards the Canary Islands to spend the winter months in a warmer climate. The next morning saw us off back down towards Kröslin with perfect sailing conditions – in contrast, we had to use the motor on the way up. 20 – 25 knots wind, meter-tall waves practically pushing us from behind, the aforementioned laminate sails and all this with beaming sunshine. The 12 knots top speed made for a fun, fast trip back. In fact, we even had time to cast anchor and go swimming in the Baltic Sea – even though it was a bit cold for us spoiled by the Mediterranean water temperatures.
Despite having to get up at 6:30 am to make our 9:20 crossing under the Strelasund Bridge, the two hour trip down the Strelasund watching the sun rise with a steaming cup of hot coffee made it all worth it. At the Bay of Greifswald we got lucky again with a strong wind from the south, and ended our tour sailing beam reach with absolutely zero waves. What a way to end a strenuous and sleep-deprived weekend – two days of fabulous sailing!
See you next year, Rostock.