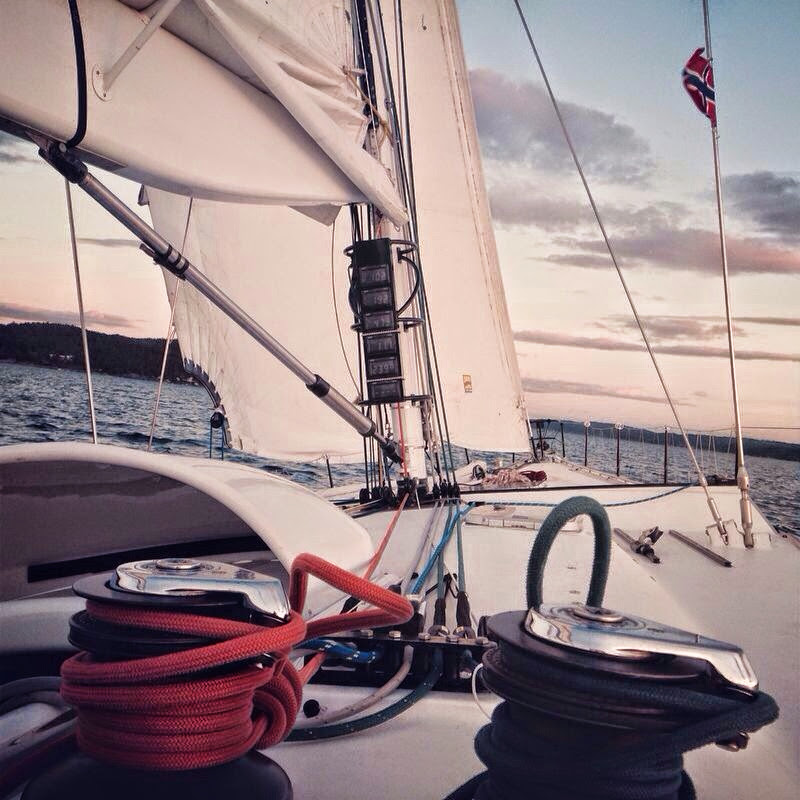 Sun, 25° air, 22° water, Oslo 2014. That's right – the sea on the threshold of Norway's capital beckoned swimmers from dawn to dusk this year. A high-pressure system from the Azores had made its way all the way to Scandinavia pushing back the low-pressure system from Iceland and didn't have plans to move any time soon. The conditions couldn't get any better for the start of our tour cruising up north… well, actually, they did. The winds were so perfect that we practically surfed through the water from Kiel to Abelo (120 sm). The winds let up on our second day, letting us relax and giving us time to enjoy and bathe in both sun and water! We passed by Ebeltoft, which wasn't really inviting – unfortunately you could tell that the Danish South Sea ended here, and with it, its flair.
Day 3: we sailed on towards Varberg where the gorgeous archipelago of Sweden's west coast begins – make sure you cast your anchors there as often as possible! My personal favorite place to stop: the island Väderöana, where you can see masts rising up between the cliffs. Very idyllic. Otherwise, the first week was characterized by an encounter with a huge Triple-E class Maersk, seeing a festival of US Old-timers, a messed-up sheet, and a defective TFT monitor. Marstrand, a sailor's paradise, was very imposing, and crossing the Hamburgsund was fantastic and even mildly amusing – we ran into a fan of FC St. Pauli (Hamburg's diehard soccer club, for all you non-soccer fans).
We arrived in Oslo after casting anchor a few more times, docking in the marina Akerbrygge. It's a great place to go ashore – close to town and within walking distance of numerous attractions. Even though the mooring fees are slightly higher than at other marinas, the anxiety you avoid and the time you save definitely make it worth it! In Oslo we had a week to see the sights and take care of small repairs. Refueling the ship was also an adventure – since no yacht petrol station had more than 4 meters water depth we had to dock at the petrol pump at 1am with the high waters of a spring tide. Of course, for our fantastic crew including members from Helly Hansen it was no problem. Getting provisions was also no problem – the waterways in Oslo also well-organized for that. During our stay, I came across an unusual ship that looked like Swiss cheese in the harbor, and a few conversations with the Skipper and Crew revealed their mission: a trip to Finland's icy waters to develop optimal isolation and resistance for yachts in extremely cold realms. Exciting! I wish you all the best and much success!
Our trip back to Kiel proved to be was nowhere nearly as enjoyable as the two weeks heading out. The weather started progressively getting worse and the material started failing. One of the two hydraulic pumps broke down as it was pumping out the ballast water forcing us to improvise: we had to substitute the hydraulic winches with manual ones using multiple diversions, defying the now-cold winds decked out in full gear. In Kyrkesund – no tour in Sweden's waters is complete without a visit here – our keel caught on a ferry cable…it felt like bungee jumping And in Copenhagen we made acquaintance with a thief that creeped…no…literally threw (!!!) himself onto our boat at 5am. After a short "inspection" of our sunglasses, the guy ended up having a nice long talk with the local police about why he tried to steal them…moron.
Also in Copenhagen, we had the good fortune of being docked right next to none less than the Alexander von Humboldt II. Of course, we lost no time in organizing a personal tour of the ship, and hosted an evening of beer and cocktails for them onboard our ship in return. What a great way to begin the end of our tour! On our final day, Rasmus (the German god of wind) brought us the spectacular end: we sailed faster than the wind for 8 hours straight!
Whoever dares fun of Rasmus make, he sends him a whale, his keel to shake.