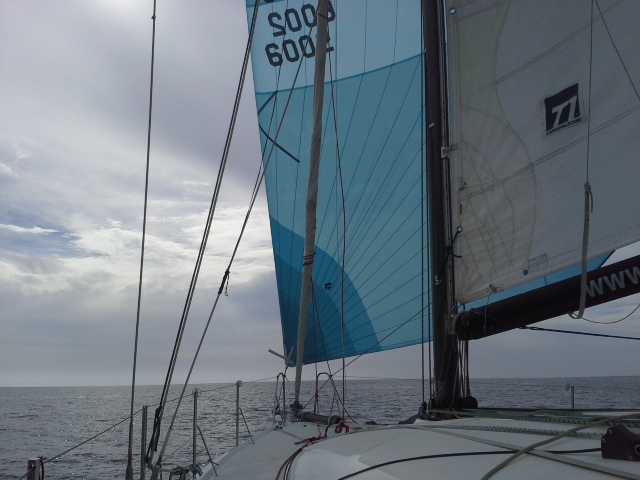 Two weeks ago we set off for another (perhaps last?) sailing trip this year to the Mediterranean on invitation from Sailing Island, to test one of their Pogos by Malta – maybe we can collaborate next season…
The Pogo 40 is a class 40 yacht, upgraded to a racer/cruiser. It is more of a racer though, since there are no doors, only curtains, no stern shower, practically no storage space and no bilge. BUT there is a squarehead-mainsail, water ballast, central navigation station, dual rudder, tiller steering, and retractable genakerboom. All in all this means tons of low-comfort sailing fun – which explains why some sailors did an about-face after taking a peek below deck. If you're used to "normal" sailboats ala Bavaria Cruiser that lug around the comfort of an RV, and also carry the extra weight, you'll surely miss the luxury, but the sailing experience with the Pogo 40 definitely makes up for it. Especially on wind courses, where the broad stern and low weight (a Pogo 40 weighs in at 4.8t, whereas the Bavaria 40S is 8.1t – a good 2/3 more!) make for incredible sailing fun. These Class 40-yachts were designed especially for these types of downwind courses – and what a fantastic job they did!
It's an awesome feeling to have the boat really start to take off at about wind force 4, thanks to the low water resistance. Also, the dual rudder makes sure that you're never in danger of losing control because one of the two rudders is always perfectly flowed. The same goes for upwind courses as well – there's always a rudder effect when the boat is heeling, thereby massively reducing the risk of broaching. Unfortunately, we weren't able to test the full potential seeing that we never had more than 16-18 knots, but even then with an AWA of 140°, the Pogo performed solidly above 10 knots.
Malta itself is definitely worth a trip – if even just for its rich history. And thanks to the many language courses taught there, as well as the local University, you always feel like you're on a "young" island, also reflected in a pulsing nightlife. BTW: Malta also has the highest population density in the EU, so even flying over ca. 28×13 km large island during landing you get the impression that it's really just a big city. From the sailor's perspective Malta is interesting, even if the Middle Sea Race isn't happening when you visit. There are a few small harbors and small bays, even though most of them are completely developed. The neighboring island of Gozo is perfect for finding some peace and quiet. If the winds are right, and you're in the mood for some offshore sailing, you can take off for Sicily, which is about 50 sm away. Personally, I found Malta particularly attractive for sailing in the winter months – the travel costs are much cheaper than to the Canary Islands or in the Caribbean, the marinas are also more affordable, and you have the occasional chance to have a bay all to yourself. Even though it' a bit too cold to go bathing, the winters in Malte definitely have a lot more in common with typical Baltic Sea summers – especially the wind and sun/rain proportions. And anyways, you're there to sail.