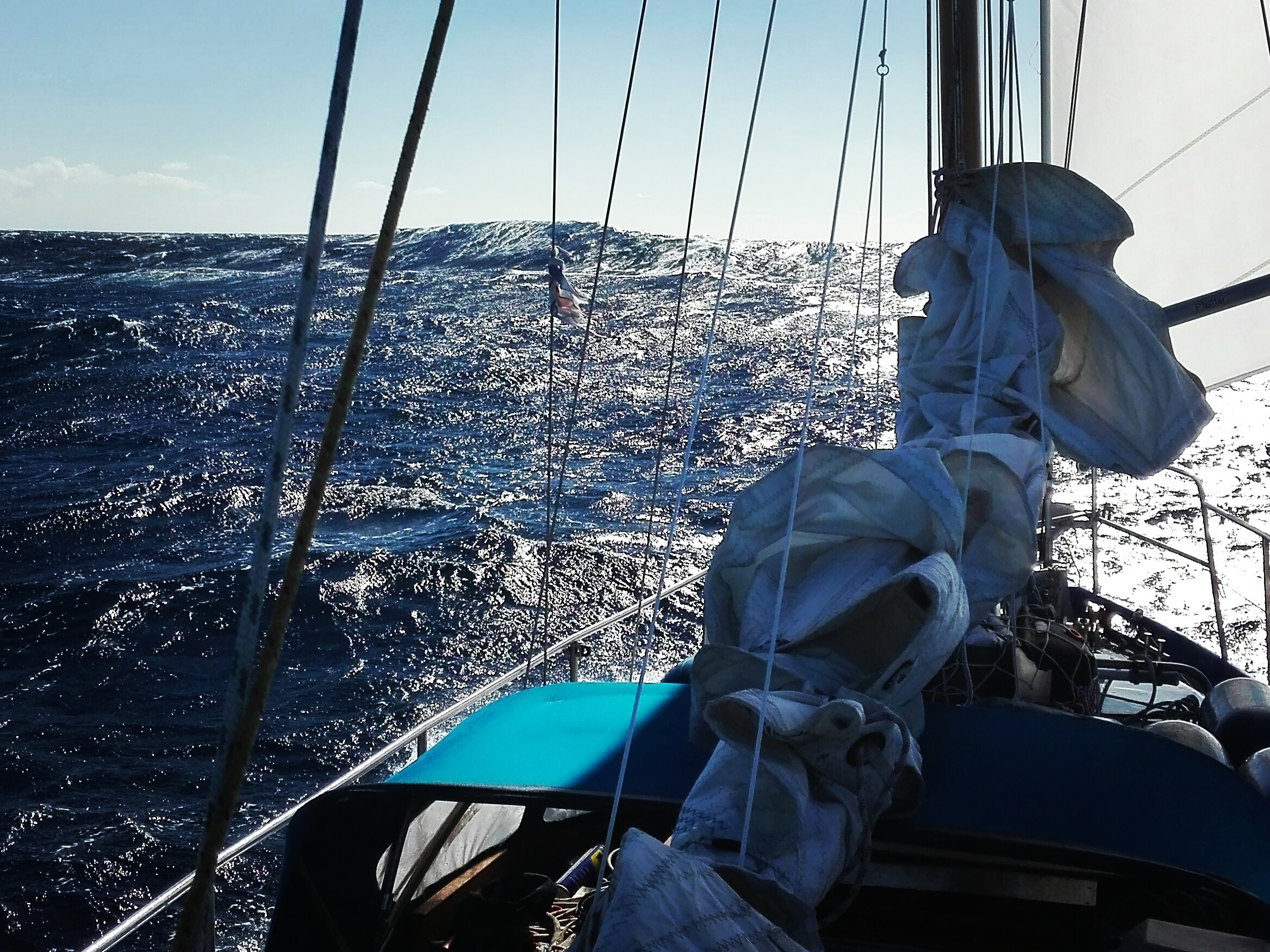 day 1
Finally set sail with a day's delay.
Performance mode in the first few hours. The Jan Maat leaves the land cover. 7 Beaufort from behind let the waves grow up to 4-5m. Anyone who says that long-keeled steels cannot surf is a horned ox. Top speed on the first day equal to 11.3 kt. The ship strikes twice under the main sail and foresail, then only reefed genoa. Still a good 7 kt. In rough seas, Christian and Daniel experience symptoms of a light sailor. A hard night follows with 6-7 Bft and several bath tubs of water in our cockpit. Challenge is running.
day 2
Once: 140sm. Course: 220 °. 5-6 Bft North. Wave 3.5m. Partly cloudy.
So far we only eat small snacks. Too annoying the Kreuzsee. Watch schedule: sleep 3 hours. 6 hours for two on deck. Mechanical self-steering system is damaged, the hardware on the tiller has to be replaced. Wonderful – in the weather no repair possible. 😉 Also that: leakage of the engine, cooling water in the bilge. What a fail! Heinz Strunk in 'Social Time'. Night is very changeable with a clear view, total cloud cover and rain.
Day 3
Once: 131sm. Course 240 °. 6 Bft North. Wave 4m. Sun from noon.
The first soul in sight, a sailor on the horizon behind us heading for West Africa. We send an "OK" message to our loved ones via satellite tracker. The suboptimal conditions (cross waves) are a bit annoying, but we hear loud music and eat stew alá Bud Spencer. A 'mini-breaker' hits the cockpit from the side every few minutes. At night, however, extensive view through the full moon. It is clear to us that we have to go further south to the Passat as soon as possible …
Day 4
Once: 125sm. 4 Bft North East. Wave 1-2m. Pure sunshine.
Old farmers' rule: "Dawn of the morning – beautiful weather threatens." It is already worthwhile. A light foretaste of what to expect in the coming weeks. Wind slowly turns to the east, we are getting closer to the trade wind. We take advantage of the calmer sea to 'pimp' the ship. Fix self steering system, engine cooling and install fishing and solar system. On the horizon the second sailor heading for the Caribbean or something. There are noodles and 'clay ginic'. We turn on the satellite phone and get weather data. Christian fishes for 2 tunas within 45 minutes – Great!
Greetings back to Stefan from Erlangen ;-).