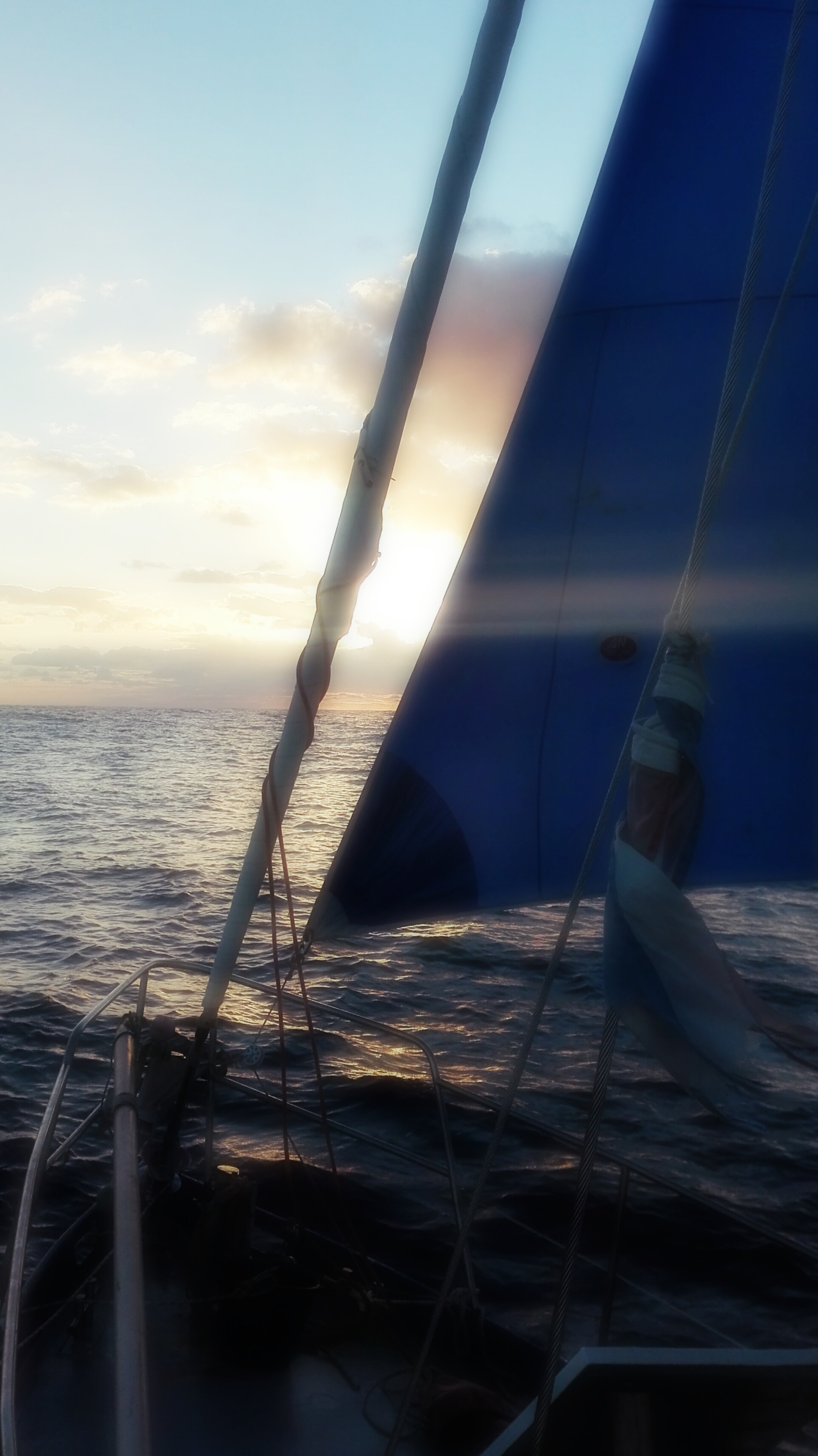 Day 8:
Once: 65sm. Course: 233 °. 2 Bft North East. Wave 0.5m. Sun.
Startle at half past one in the night, the engine goes crazy – it goes full throttle and can no longer be throttled. Consequence: engine off and setting sail, good settings found: run 3.5-4.5 knots at a good 235 °. Somehow we have too little wind to reach our goal in 2-3 weeks. We therefore absolutely have to take up further south and the trade wind. We use the day to do another engine service. A 'fuckup' in connection with the Bowden cable and the throttle valve shaft brought us the evil at night, but fixed the problem. Then a round of 'ELI – One always lies' (Greetings to Ilbeshausen / Hochwaldhausen ;-). This is followed by coffee & cake and sports on the bow. Grand ending: film evening in the cockpit with John Wayne in Hatari.
Day 9:
Once: 83sm. Course: 214 °. 5 Bft North East. Wave 1.5m. Partly cloudy, partly cloudy.
The night is relaxed when the sea is calm. Even the oilskin can go away, it's so warm and dry now. We lose another bait, this time even one with a specially prepared Dyneema leader – these 'dirt animals' must have incredibly sharp teeth. From noon we go to Barbados with a butterfly setting. We finally reach the Passat and we run 5.5 kt again. Bottlenose dolphins visit us, but this time only very briefly, after 5 minutes they are gone again. There is home-style cooking: fried potatoes with sausage and scrambled eggs.
We send greetings back to Anna-Sophia, Jörg and Engin. 😉
Day 10:
Once: 132sm (back in business). Course: 254 ° North East. 5-6 Bft. Wave 2.5m. Sun.
We see a ship again after a long time. At night a sailor starboard on the horizon, which will cross our way after a while. We are longing for fresh fish, but at the speed there is no sign of a catch. Nevertheless, we are very happy about the good, if very shaky, ride against the wind and waves. Maybe in the coming days we will cross the path of the 'Kairos' (www.classic-sailing.com), the ship of our friends we met on Tenerife. We send you an SMS with coordinates via satellite phone and hope for an answer. There is spaghetti carbonara and a beer, everyone is happy.
Many greetings back to Mario, thanks for the weather report! 😉
Day 11:
Once: 125sm. Course: 253 °. 7 Bft East. Wave 3.5m. Slightly cloudy.
It refreshes at night. We set another reef, make a very good trip. Top speed: 8.1 kt! Christian grabs several 'flying fish', which are gradually washed up on deck so that they can be used as bait at some point. We will reset the time by one hour – GMT-01: 00. We sunbathe in the cockpit, a huge Kawenzmann rolls from the aft over the ship and meets Georg – big laughter breaks out 🙂 The wind increases and we go to the third reef, Genoa half reefed. Result: less pressure on material, COG better, SOG the same, VMG much better! If things continue to go so well, we celebrate the mountain festival at the weekend.